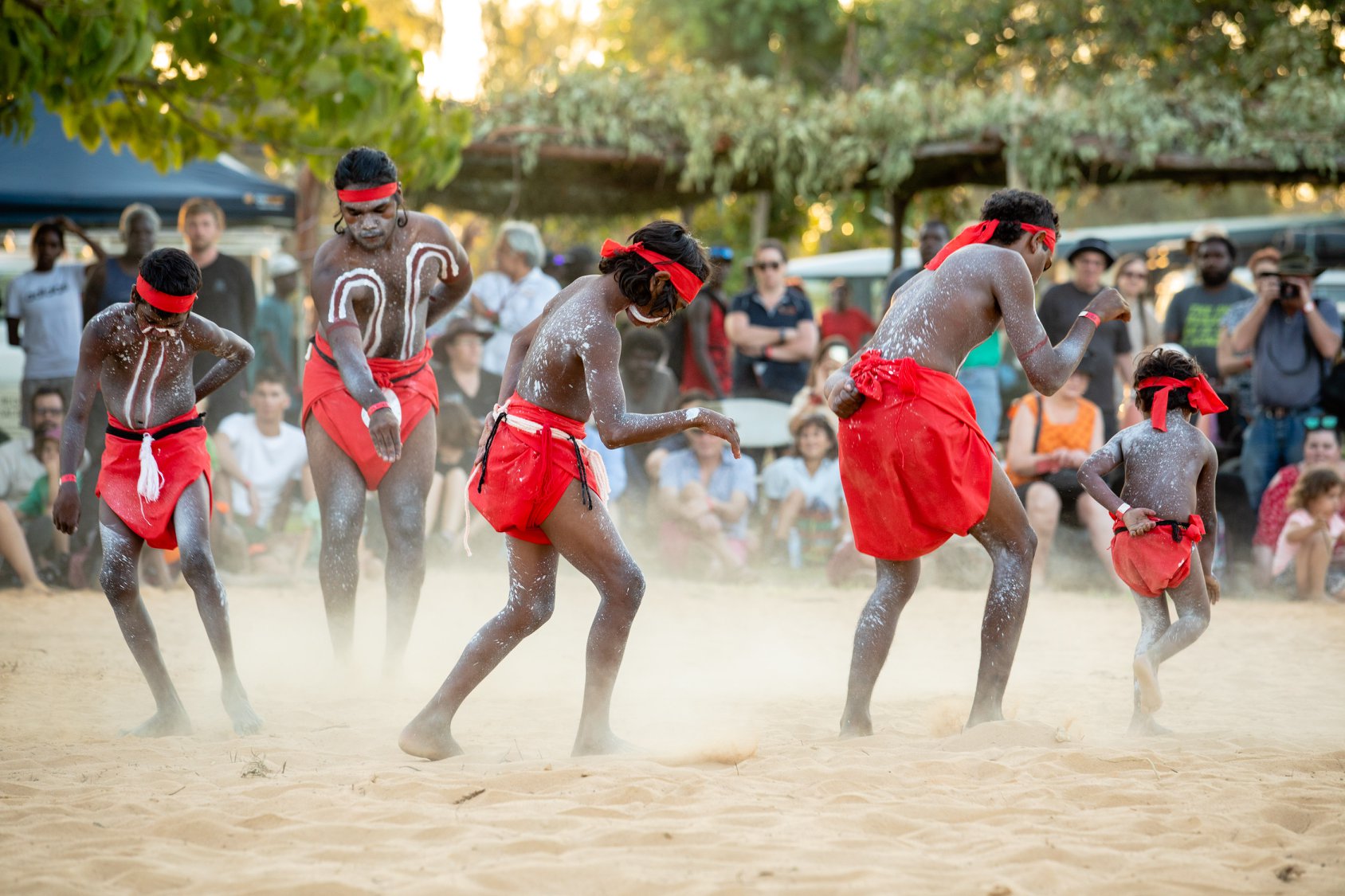 About
Barunga Festival is a must for anyone seeking an authentic Aboriginal cultural experience. An iconic family friendly event on the national festival calendar, Barunga boasts a long and proud tradition of celebrating Indigenous music, culture and sport. 

This much-loved Territory festival attracts more than 4000 fans – Indigenous and non-Indigenous people – who celebrate together in a small community with a population of about 360. Barunga is 80 kilometres southeast of Katherine. The Traditional Owners welcome you to camp and take part in a program of activities over the three-day long weekend in June each year.

Barunga Festival has a long history of showcasing Katherine and Arnhem Land regional arts and supporting remote Indigenous communities to come together and celebrate the positive aspects of community life. Visitors of all ages are encouraged to join in the festivities and enjoy this unique opportunity to engage with a remote Indigenous community.
Over the years, the festival has grown in popularity and is now recognized as one of the most significant Indigenous cultural events in Australia. It features a range of activities, including traditional dance and music performances, art exhibitions, workshops, sports competitions and cultural talks.
One of the festival's highlights is the Barunga sports and cultural program, which includes traditional sports, such as spear throwing and tug-of-war, as well as modern sports, suchas football and basketball. The program also includes cultural activities, such as storytelling and bush medicine workshops.
The festival has played a significant role in promoting Indigenous culture and raising awareness of Indigenous issues in Australia. It has also been instrumental in promoting reconciliation between Indigenous and non-Indigenous Australians, and promoting understanding and respect for Indigenous culture. Today, the Barunga Festival continues to be an important event in the Australian cultural calendar and an essential celebration of Indigenous culture and heritage.
We are still shaping up the program in conjunction with the Bagala Aboriginal Corporation and tickets are on sale now.
History
Warning. Content contains the names and images of Aboriginal and Torres Strait Islander people now deceased.
---
The founder of the Barunga Festival is Peter Apaak Jupurrula Miller, a proud Aboriginal man who has invested much of his life into teaching and fighting for land rights. It was Apaak's vision to create a place in the centre of the Top End for people to meet. The community was then known as Bamyili.
''It was a shared vision of the community to show Australia our culture and welcome people to our unique country we are all accustomed to, and all come to walk together."

– Peter Apaak Jupurrula Miller
As a founder of Barunga, Apaak saw the opportunity for growth and the creation of a grassroots event that had the potential to scale up and remain sustainable. His strategic perspective, cultural understanding and ability to start a celebration that always incorporated arts, sports, culture and embraced his passion for music is continued today.
Apaak trained as a teacher along with his lifelong friend, Dr Mandawuy Yunupingu AC of the Gumatj people and frontman of Yothu Yindi. Apaak witnessed the historically significant gesture of pouring of a handful of red soil by Gough Whitlam into Gurindji clan elder Vincent Lingiari's hand on 16 August 1975, which symbolised the legal transfer of Wave Hill station back to the Gurindji people. He was a senior advisor of the Everingham Government when the Northern Territory (Self-Government) Act of 1978 established the Northern Territory as a self-governing entity. Under this Act, the Commonwealth of Australia transferred most of its governing powers to the Territory. Apaak also sat as Deputy Chair to Mr Yunupingu AM, who was Chair of the Northern Land Council at the time and who he describes as a "giant of the nation".
''Back in the early days, Barunga still had a lot to offer for a small community. We only had a dirt road to Katherine and land rights was in its infancy. Lots of things were happening and the country needed a place to come together and talk. We started small and always played sports, shared culture, had music, did lots of cooking and camping together on country."

– Peter Apaak Jupurrula Miller
Apaak and his family still live in the area. He is frontman and music producer for the Blekbala Mujik Band, teaches and was also one of the founders of the Batchelor Institute of Indigenous Tertiary Education, which has shaped many Aboriginal lives.
The Barunga Festival was enhanced by Bangardi Robert Lee (1952–2000).
''The main aim of the festival is to bring people together, sharing and understanding each other's problems. This way we can get to know one another properly.''

– Bangardi Robert Lee
The festival continued to bring together the Indigenous communities in the region and celebrate Aboriginal culture. To this day, it is seen as a way to raise awareness of Indigenous issues and promote reconciliation between Indigenous and non-Indigenous Australians.
An article written by Chips Mackinolty and published in the Sydney Morning Herald in 2005 titled "A champion of native land rights" says Mr Lee was born on the banks of Beswick Creek, and was adopted and brought up by a senior Jawoyn Derkolo clansman, Don Jambalili, along with his Ngalkbon mother, Daisy Bordu. Lee spent many years fighting for land rights of the Jawoyn people. Lee found himself a reluctant leader of the Jawoyn people after the early death of his older brother, Raymond Fordimail, through tuberculosis. Lee went on to host a national Indigenous leaders' summit at Manyallaluk, which led to the Eva Valley Statement on native title. He was also to be a lead negotiator in Australia's first native title settlement over mining, for gold at Mount Todd, a year before native title legislation was introduced federally. He also oversaw the development of the Territory's largest Aboriginal-owned tourism operation, Nitmiluk Tours.
At about 14, Mr Lee went into the workforce, as a ringer and butcher, and later as a mechanical works supervisor; for a time he joined a boxing troupe. Later he served for a decade as town clerk at Barunga until he moved into Katherine to be CEO of the Jawoyn Association. During the 1990s, he served as a member of the Northern Territory Tourist Commission, as well as the Parks and Wildlife Commission, as a member of the Gurig and Kakadu national park boards, as well as chairing Nitmiluk.
Success has many fathers and the Barunga Festival has a foundation of strong land rights advocates with Apaak and Lee, and this year it has been handed back to the Bagala Aboriginal Corporation, which has Danielle Bush, Esther Bulumbara, Helen Lee, Ann Marie Lee and Wayne Ruynu on the Board of Directors.
 2023 was the 35th anniversary of the Barunga Statement.

The Barunga Statement is a document created in 1988 at the Barunga Festival. It was signed by the then Prime Minister Bob Hawke and is a statement of commitment to Indigenous rights and self-determination. The statement calls for the recognition of Indigenous land rights, the establishment of a Treaty between Indigenous and non-Indigenous Australians, and the implementation of a national policy of self-determination for Indigenous Australians. The statement is seen as a major milestone in the struggle for Indigenous rights in Australia. Yothu Yindi went on to write the worldwide hit "Treaty" as a result of this gathering at the Barunga Festival.

The Barunga Statement was the result of years of discussion. The document was painted by several artists who represented different Traditional Owners across Northern and Central Australia.

The lefthand side of the statement was painted by Yolngu men and shows their distinctive cross-hatching style. The panel is split into three panels with each section depicting Dreaming stories from across north-east Arnhem Land. The stories included (from top to bottom) are Crocodile Fire Dreaming of the Madarrpa people of the Blue Mud Bay area, the Crocodile Fire Dreaming of the Gumatj people of the Caledon Bay area and the Whale Dreaming of the Trial Bay area.

The right half of the document was painted by Arrernte and Warlpiri men from Central Australia and uses their well-known dot-painting style. Their side depicts the Two Women Dreaming – a story that links the major language groups of Central Australia. The painting shows women meeting at two sites in the Northern Territory with the middle section depicting the women coming together to exchange gifts and carrying the story on through their country.
The Statement reads as follows:
We, the Indigenous owners and occupiers of Australia, call on the Australian Government and people to recognise our rights:
to self-determination and self-management, including the freedom to pursue our own economic, social, religious and cultural development;
to permanent control and enjoyment of our ancestral lands;
to compensation for the loss of use of our lands, there having been no extinction of original title;
to protection of and control of access to our sacred sites, sacred objects, artefacts, designs, knowledge and works of art;
to the return of the remains of our ancestors for burial in accordance with our traditions;
to respect for and promotion of our Aboriginal identity, including the cultural, linguistic, religious and historical aspects, and including the right to be educated in our own languages and in our own culture and history;
in accordance with the Universal Declaration of Human Rights, the International Covenant on Economic, Social and Cultural Rights, the International Covenant on Civil and Political Rights, and the International Convention on the Elimination of All Forms of Racial Discrimination, rights to life, liberty, security of person, food, clothing, housing, medical care, education and employment opportunities, necessary social services and other basic rights.
We call on the Commonwealth to pass laws providing:
A national elected Aboriginal and Islander organisation to oversee Aboriginal and Islander affairs;
A national system of land rights;
A police and justice system which recognises our customary laws and frees us from discrimination and any activity which may threaten our identity or security, interfere with our freedom of expression or association, or otherwise prevent our full enjoyment and exercise of universally recognised human rights and fundamental freedoms.
We call on the Australian Government to support Aborigines in the development of an international declaration of principles for indigenous rights, leading to an international covenant.

And we call on the Commonwealth Parliament to negotiate with us a treaty recognising our prior ownership, continued occupation and sovereignty, and affirming our human rights
Following the presentation of the Statement in 1988 to Prime Minister Bob Hawke at the Barunga Festival, the Statement was presented at Parliament House during a ceremony on December 10, 1991. The co-creators of the statement, Galarrwuy Yunupingu and Wenten Rubuntja, gave speeches, along with Mr Hawke and Minister for Aboriginal and Torres Strait Islander Affairs Robert Tickner. This unveiling was the last act of Mr Hawke before he left office. Since the unveiling the Statement has been on display at Parliament.
A documentary, Make it Right!, was created about the 1988 Barunga Festival and includes the creation and presentation of the Barunga Statement. There will be a screening of the documentary at the Barunga Festival 2024.
Barunga
Statement
The Barunga Statement 1988.
Natural pigments on composition board with attached printed text on paper presented by the Central Land Council and Northern Land Council in 1988. Parliament House Art Collection.