The Barunga festival program celebrates the cultural diversity of the region and features a range of activities, including music, dance, sport, traditional art and cultural workshops.
The festival is proud to preserve ancient rites, customs and skills, and engage the broader community to offer a platform for passing on knowledge and experience to the next generation, as well as to the non-Indigenous community.
The traditional cultural program presents many once-in-a-lifetime opportunities for audiences to engage in traditional dance, spear throwing, didgeridoo playing, bush medicine, cooking, weaving and Dreamtime storytelling.
The Barunga Festival program is being finalised and may vary from year to year, but it always provides a vibrant and engaging celebration of Indigenous culture and community.
The festival program for 2023 included: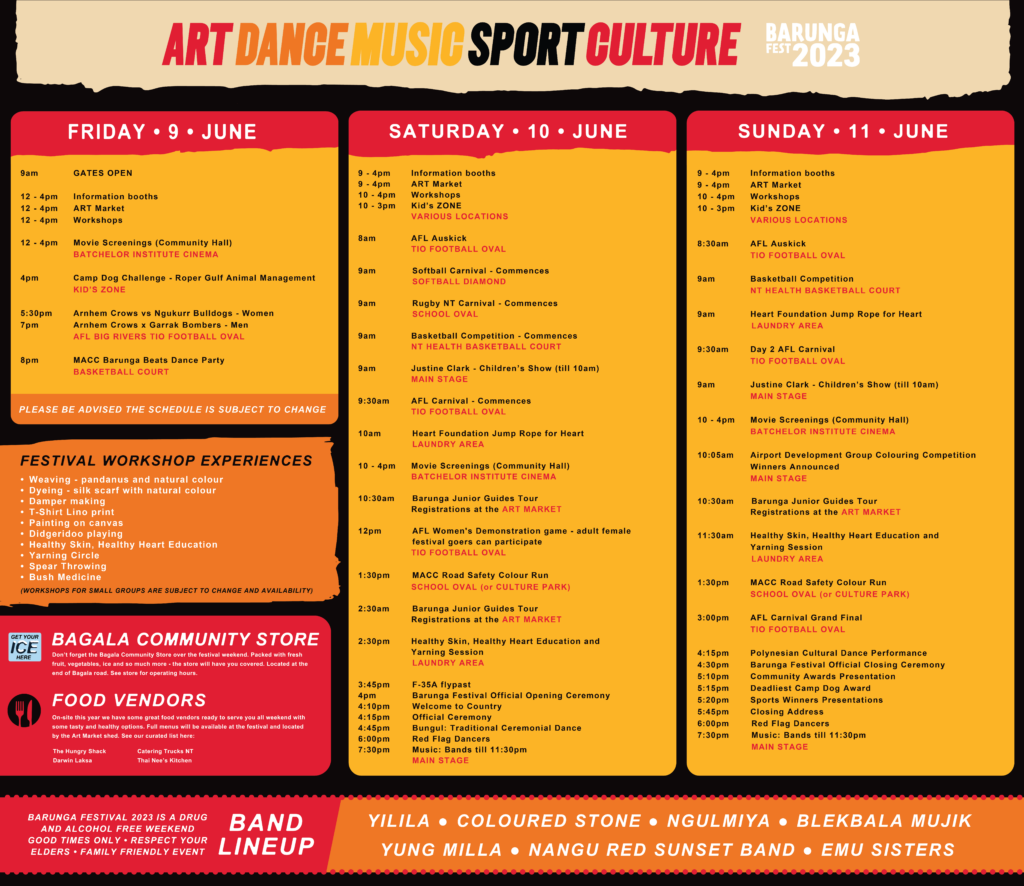 Welcome ceremony
The festival begins with a traditional smoking ceremony and welcome dance, performed by the local Indigenous community.
Sports
The Barunga Sports Carnival is a highlight of the festival, with teams from across the Northern Territory competing in a range of sports, including basketball, football, softball and rugby.
art market stalls
The 2024 Barunga Festival is proud to be hosting an amazing selection of professional art centres from across the Northern Territory selling high quality handmade crafts and Indigenous art and fabrics. 
Music and dance performances
The festival features a diverse range of music and stunning bunggul dance performances, showcasing the talents of local Indigenous artists, as well as world-class performers from Numbulwar, Maningrida, Groote Eylandt and Arnhem Land.
Art and culture workshops
Visitors to the festival can take part in workshops on traditional Indigenous art and culture, including weaving, painting, didgeridoo making, community tour and storytelling.
Cultural talks and discussions
The festival includes a program of talks and discussions on topics of importance to the Indigenous community, such as land rights, 35 years of the Barunga Statement, language preservation, and cultural heritage.